Eat your way around Fort Lauderdale's high/low restaurants
Dig into these picks for the city's best bites (and thank us later).

By Lesley Abravanel

2 Oct 2023 • 5 minutes read
For years, Fort Lauderdale's food scene has been the Jan Brady of South Florida, with Michelin-saturated Miami playing the role of "Marcia, Marcia, Marcia," and Palm Beach being not necessarily the youngest, but the most precocious sibling, with highly curated dining spots with glowing reviews.
But as all siblings do, each has grown into their own distinct personalities, and to many seasoned skeptics' surprise, Fort Lauderdale has become one to watch when it comes to food tha appeals to almost every taste and budget.
I've been writing about dining in South Florida for more than two decades, and some of my favorite spots in the region are right here in Laudy (as we locals like to call it). So whether you're looking for an elegant night out or a quick nosh on the go, I'm here to point you to some of the tastiest bites in town.
Take that, Marcia (and watch out, Michelin).
HIGH
For international flair: The Katherine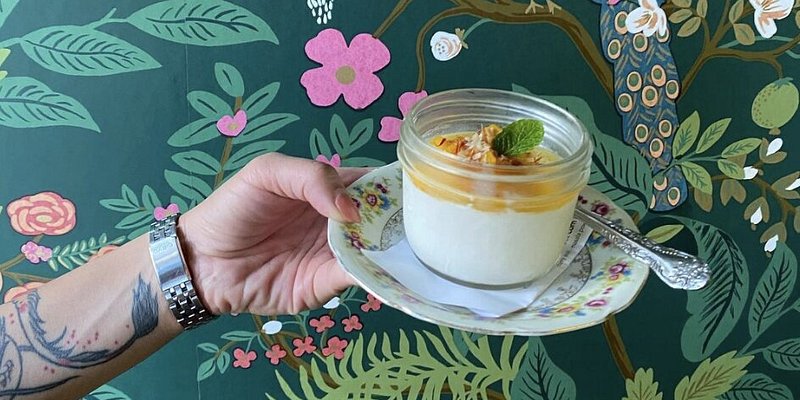 Once upon a time, no Miamian of a certain level of epicurean snobbery would ever cross into Fort Lauderdale to eat, but that was then. Just ask Timon Balloo, one of the Magic City's most lauded chefs (late of Sugarcane Raw Bar Grill fame). He, along with his talented wife Marissa, packed their knives and headed north to open The Katherine, a cozy neighborhood hot spot serving globally influenced dishes.
What to order: Start with the burrata and arugula salad with peach dressing and the addictive fish sauce caramel wings with radish pickles. Follow up with one of my personal favorites, the squid ink Carbonara with bacon gremolata and lemon zest.
Travelers say: With delicious food, a warm atmosphere and attentive service, The Katherine is a jewel in downtown Fort Lauderdale. Two friends and I shared three ample appetizers and two dinners and were completely satisfied. Our five dishes (clam chowder fries, glazed carrots, charred cabbage salad, jerk grilled chicken thighs and branzino) were each unique and flavorful. –@TigerDiner
For old school elegance and red sauce: Anthony's Runway 84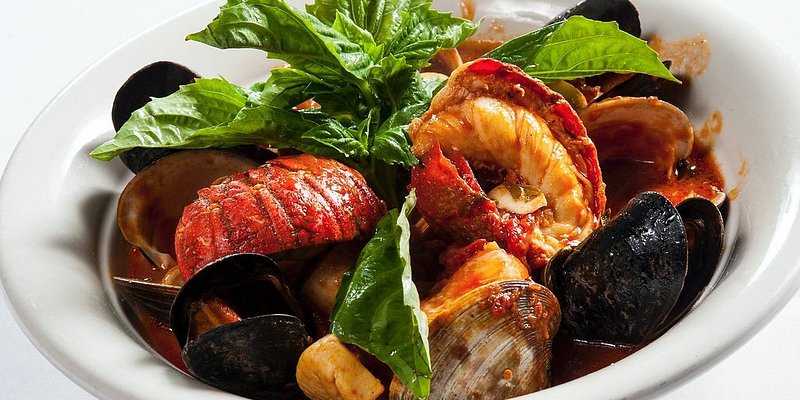 Anthony's Runway 84 (or just Runway 84, as the regulars say), just underwent an impressive renovation that took it from an '80s The Godfather vibe to a modern-day jet-setting, retro-fab scene where the bar and people watching are a centerpiece. The real star, though, are the huge portions of old school Italian plates. Bring your checkbooks (and your breath mints).
What to order: Come with an appetite for red sauce favorites like the "Sunday feast," rigatoni with meatballs, sausage, braciole AND pork ribs (all topped with a healthy scoop of ricotta) or the layers of chicken vodka parmigiana.
Travelers say: Just had a great dinner at Anthony's Runway Super Club. The renovations were beautiful, low lighting, chandeliers, velvet banquets, everything you'd expect if Sinatra designed it!! Music was old school from the 50's & 60's. Ask for Christian he was the best waiter! Menu did not disappoint. Very large portions so order carefully. Leave the gun take the cannoli's was the best dessert! –@Desaragous
For trendy eats in a stylish space: No Man's Land
A strip-mall speakeasy (not an oxymoron), the sleekly sophisticated No Man's Land doesn't just focus on its blue velvet and mood lighting looks, the food here tastes spectacular, too. While mixology is the M.O.—check out the various tinctures on the bar and ask the mixologist to craft you a customized spirit that matches your mood—the small sharing plates are not to be sniffed at.
What to order: Start with an oyster shooter of fresh lemon, Bloody Mary hot sauce, and Los Magos Sotol (mezcal's grassy cousin that's all the rage) and continue on to a steal of a deal—the $12 plate of deviled eggs and caviar. Then dive into the luscious escargot macaroni and cheese before finishing with the best espresso martini in town. (If food, and not cocktails, are your main interest, come by at lunch when there's a larger menu including poke bowls and ramen.)
LOW
For the perfect burger: Gilbert's 17th Street Grill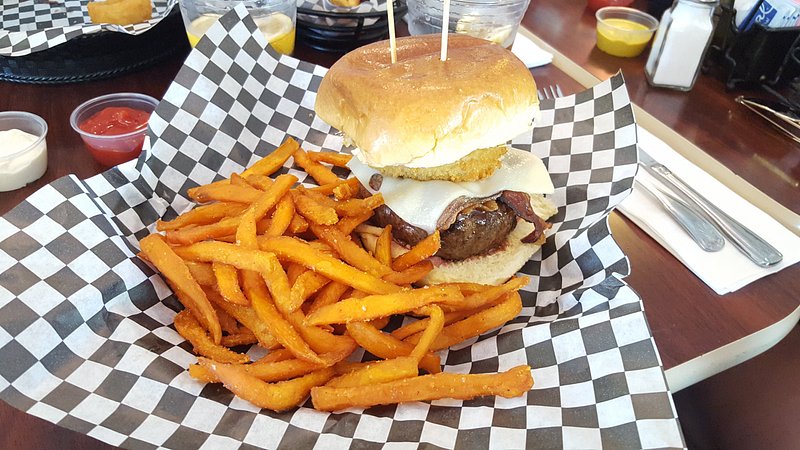 Tucked away off the bustling 17th Street Causeway en route to the Fort Lauderdale strip, Gilbert's 17th Street Grill is *the* place for juicy, angus beef burgers of all styles. And while some places boast about having the best burgers in town, family owned and unpretentious Gilbert's actually has the best and doesn't need to brag; the legions of regulars who wish to keep the place a secret speak volumes on their own. Tip: Gilbert's is very popular, and the dining room can get crowded at peak lunch and dinner hours, so plan a late afternoon burger run at 3 or 4 p.m. if you don't want to wait for a table.
What to order: The Louisiana Cajun with havarti bacon on a toasted garlic buttered English muffin and the Dominican burger with grilled salami, fried queso Blanco, an egg, and pickled onions topped with chipotle cilantro mayo are both outstanding options. But really, you can't go wrong with any dish here.
Travelers say: Their specialty is burgers and they know how to do them right. But all the food is outstanding. The best food starts with the best ingredients. These folks get it all right. Great ingredients, creatively combined and perfectly prepared. Come hungry and try to save room for a cookie. Gilbert's is exactly why I love locally owned restaurants. Give it a try. You'll be glad you did! –@wvguy99
For hand-held eats: Broad Shoulders Sandwiches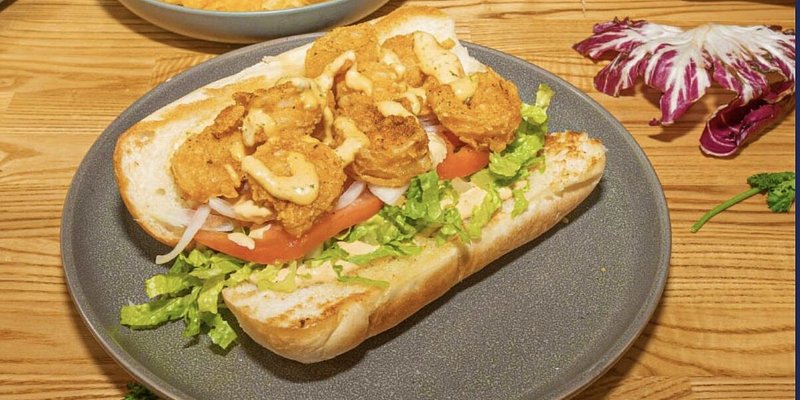 Former Emeril's chef Tom Azar takes the concept of being a "Sandwich Artist" to masterpiece levels at Broad Shoulders Sandwiches with from-scratch showpieces including a stellar spicy chicken and proper Cuban. And listen, before you balk at a $16 sammy at this excellent spot, a reminder that two tuna footlongs at Subway will set you back almost $20, and I promise you they won't be half as good. Plus, these sandwiches eat like a meal, sometimes two, so go hungry.
What to order: My fave, the Chicago-Style Italian Beef: Italian seasoned roasted beef shaved thin and dipped in gravy served with homemade giardiniera and sweet peppers on an Italian roll—will have you checking your surroundings to make sure you are a few blocks from the Atlantic Ocean and not Lake Michigan.
For mom and pop comfort food: Top Round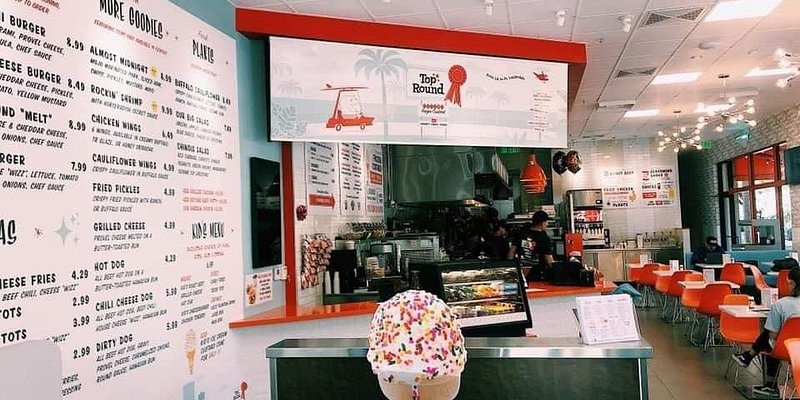 The cuts of roast beef, the brisket chili, and the custard have customers screaming that there is nothing to top Top Round, a small, fast casual spot on a busy corner, but it's also the customer service that keeps everyone coming back. The mom-and-pop vibe that's been so lost in the chain-ification of culinary hot spots is alive and well here, taking fast service comfort food to the next level. Extra bonus: They're open everyday from 11 a.m. to 10 p.m.
What to order: Order up a milkshake made with homemade custard (the mint chip is a particular favorite) to accompany a cheese-sauce topped roast beef sandwich and you'll wonder why anyone goes elsewhere when they're in Fort Lauderdale.
Travelers say: This was our first stop today after arriving in Ft. Lauderdale. My husband had eaten here on prior visits but it was my first time & I enjoyed it as much as he said I would. Their menu is very large! We shared a delicious roast beef sandwich, tater tots & a cookie. It was a special treat to meet the owners & discover our mutual NC connection. We will definitely be back! @Susan G